The third edition of the festival was held in Reggio Emilia from 24 to 26 May 2018, in collaboration with Coopselios. Three full days entirely dedicated to the main theme: "Imperfect division. Democracy beyond inequality".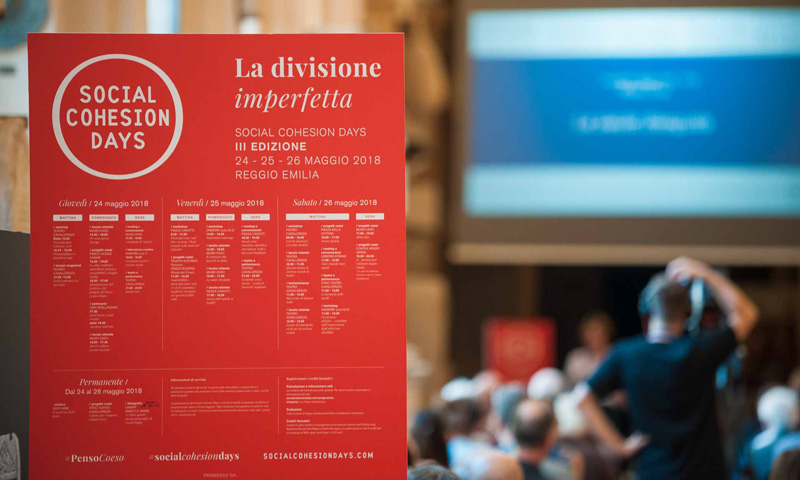 From 24 to 26 May 2018 Reggio Emilia hosted the third edition of the Social Cohesion Days, the international festival on social cohesion (www.socialcohesiondays.com), which had many events – all free of charge – including conferences, workshops, round tables, shows, and exhibitions. The Nobel Prize for Economics Amartya Sen, Professor Romano Prodi, the American journalist Simran Sethi and many others were among the protagonists of the third edition.
These are some of the main numbers over the three days of the 2018 edition: 88 speakers and almost 4000 people, participated in more than 30 different events scheduled. Over 400,000 users watched the video contents, of which 49,000 followed the streaming events. The Facebook page reached a coverage of over 670,000 users, with about 200,000 actions (shares, reactions, and comments).
The aim of the festival is to reconstruct from the bottom, through thoughts, practices, and actions, the possibility of a real collective participation, global and local, in the "public sphere". Because reducing the gaps, encouraging dialogue, understanding differences and making the most of them are necessary conditions for imagining a future for democratic systems.
The initiative was promoted by public and non-profit organizations: Easy Care Foundation, Municipality of Reggio Emilia, Foundation for World wide Cooperation, in collaboration with Coopselios.